This is a beautiful song by the magical combo Arijit Singh and Pritam for Sushant Singh Rajput & Shradha Kapoor's film Chhichhore. The lyrics of the song are given by Amitabh Bhattacharya.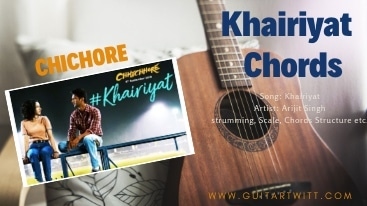 Guitar Chords with/without Capo
The song is in C minor scale, so all the C minor relative chords are used in this song as shown below. If you are a beginner, you can use a Capo to play this song with easy-open Chords mentioned below.
Key: Cm
Chords: Cm, Ab, Gm, G, Eb, F
Suggested Strumming: DU DU DU D
Chords Structure
Original   
 Capo  3rd fret  

Cm – x35543
Ab – 466544
Gm – 355333
G – 355433
Eb – x65343
F – 133211

Am – x02210
F – 133211
Em – 022000
E – 022100
C – x32010
D – xx0232
Track Info
Song: Khairiyat
Film: Chhichhore
Singer: Arijit Singh
Music: Pritam
Lyrics: Amitabh Bhattacharya
Director: Nitesh Tiwari
Starring: Sushant Singh Rajput, Shraddha Kapoor,
Varun Sharma, Prateik Babbar, and others.
Music Label: T-Series
Intro
[wpchords]
[Cm] [Ab] [Cm] [Ab]
[Cm] [Ab] [Cm] [Ab] [Bb]
[Cm]
[Ab] [Bb]

[Cm]Khairiyat puchho, kabhi toh [Abm]kaifiyat puchho
Tumhare [Bb]bin deewane ka [Gm]kya haal [Eb]hai?
[Cm]Dil mera dekho, na meri [Ab]haisiyat puchho
Tere bin [Bb]ek din jai[Gm]se sau saal [Eb]hai [Ab]

[Bb]Anjaam [F]hai tay mera
Hona [Ab]tumhe hai mera
Jitni bhi [Bb]ho doori[Gm]yan filhaal [G]hai
[Eb]Yeh doori[Gm]yan filhaal [Cm]hai [Ab]

[Bb]Oo… [Cm]Khairiyat puchho, kabhi toh [Ab]kaifiyat puchho
Tumhare [Bb]bin deewane [Gm]ka [Bb]kya haal [Eb]hai? [Bb]
[Cm]Dil mera dekho, na meri [Ab]haisiyat puchho
Tere bin [Bb]ek din jai[Gm]se [Bb]sau saal [Eb]hai

[Cm] [Ab] [Cm] [Ab] [Bb]
[Cm] [Ab] [Cm] [Ab] [Bb]
[Cm] [Ab] [Cm] [Ab] [Bb]
[Cm]

Tumhari tasveer ke sahare mau[Ab]sam kai guzare
Mausa[Fm]mi na samjho par [Bb]ishq ko ha[G]mare
Naz[Cm]ron ke samne main aa[Ab]ta nahi tumhare
Magar rah[Fm]te ho har [F]pal man[Bb]zar
mein tum hama[Cm]re

Agar ishq [F]se hai mila
Phir dard [Ab]se kya gila
[Bb]Is dard mein zinda[Gm]gi khushhaal [G]hai
[Eb]Yeh doori[Gm]yan filhaal[Cm] hai [Ab]

[Bb]Oo… [Cm]Khairiyat puchho, kabhi toh [Ab]kaifiyat puchho
Tumhare [Bb]bin deewane [Gm]ka [Bb]kya haal [Eb]hai? [Bb]
[Cm]Dil mera dekho, na meri [Ab]haisiyat puchho
Tere bin [Bb]ek din jai[Gm]se [Bb]sau saal [Eb]hai [Ab]

[Bb]Anjaam [F]hai tay mera
Hona [Ab]tumhe hai mera
Jitni bhi [Bb]ho doori[Gm]yan filhaal [G]hai
[Eb]Yeh doori[Gm]yan filhaal [Cm]hai [Ab] [Bb]
[/wpchords]