Nitol Paaye Guitar Chords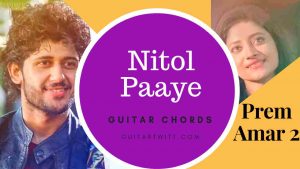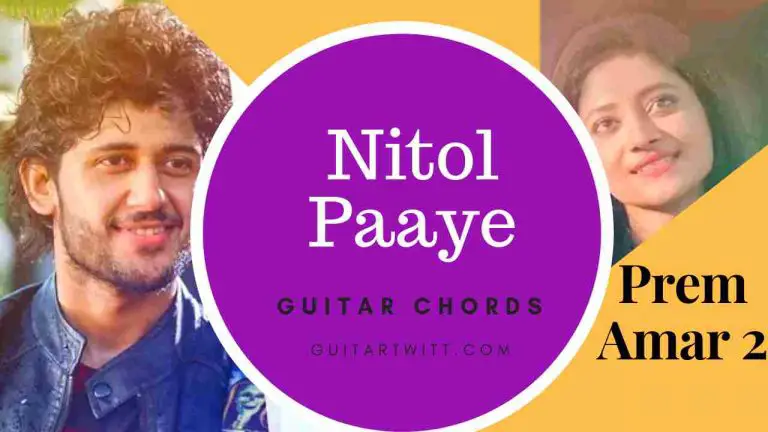 Song: Nitol Paaye
Film: Prem Amar 2
Singer: Imran
Music: Fuad
Lyrics: Fuad
Language: Bengali
Music Label: Svf Music
Year: 2019
Presenting Nitol Paaye Guitar Chords
Nitol Paaye is a beautiful song by Fuad.This is the 2nd track from Prem Amar 2. The song is sung by Imran for the upcoming Bengali Film Prem Amar 2. This composition created and written by Fuad.
Chords Deatils
The easiest way to play this beautiful song Nitol Paaye on guitar we need D major, G major, A major and B minor chords. This song is in the D major scale.


Scale: D Major
Chords: D, G, A, Bm
Strumming: D D D DD
[D]Mon bhabe taare [G] ei meghla [A]dine
Seto [D]aal kuashate [G] taar spor[A]she
[D]Mon bhabe taare [G] ei meghla [A]dine
Seto [D]aal kuashate [G] taar spor[A]she
[D]Taar rum jhum nu[G]poorer [A]saaje
[D]Batashe jeno [A]mridu suba[D]she

[D]Nitol paayer rinik [jhinik
[D]Paayel khani baaje
[D]Madol baaje [A]sei songete
[D]Jeno meye naache
[D]Nitol paayer rinik jhinik
[D]Paayel khani baaje
[D]Madol baaje [A]sei songete
[D]Jeno meye [A]naache


[D]Chander adhore [Bm]jeno
Tomar haasir [A]majhe
[D]Sonali aabeshe [Bm]kobe
Saagar [A]dhare
[D]Hridoyer majhe [Bm]kobe
Bedhe chile [A]badhan
[D]Bhalobasa [G]tobe [D]keno
[D]Moner ago[A]chore
[D]Taar rum jhum nu[G]poorer [A]saaje
[D]Batashe jeno [A]mridu suba[D]she

[D]Nitol paayer rinik [A]jhinik
[D]Paayel khani baaje
[D]Madol baaje [A]sei songete
[D]Jeno meye naache
[D]Nitol paayer rinik jhinik
[D]Paayel khani baaje
[D]Madol baaje [A]sei songete
[D]Jeno meye [A]naache