Preme Pora Baron Guitar Chords By Lagnajita
Do you love Bengali song? Then definitley You love to play this song with your guitar. Lagnajita's new song Preme Pora Baron. Presenting Preme Pora Baron Guitar Chord.
Song Credit
Preme Pora Baron is a new beautiful song from the Bengali film Sweater. Lagjnita decorated this song with her voice. The song is composed and written by Rana Bhattacharjee.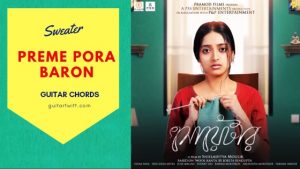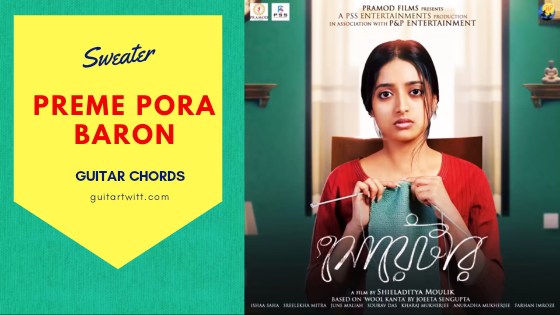 Song: Preme pora Baron
Film: Sweater
Singer: Lagnajita Chakraborty
Music: Ranajoy Bhattacharjee
Lyrics:Ranajoy Bhattacharjee
Guitar: Raja Chowdhury
Language: Bengali
Year: 2019
Chords Detals
Due to the song is on B major scale, So all the B major relative chords are used in this song. So chords are used for this song are B major, G# or Ab minor, F# major,
So lets start to play Preme Pora Baron Guitar Chords.
Scale: B
Chords: B, G#m, F#, E
Suggested Strumming: DDU D D
Music
[B] [G#m] [E] [F#] [B]
[B]Preme pora baron, [G#m]karone okaron
[E]Aangule angul rakhleo [F#]haat dhora [B]baron
[B]Preme pora baron, [G#m]karone okaron
[E]Aangule angul rakhleo [F#]haat dhora [B]baron
[B]Preme pora baron
Music
[G#m] [E] [F#]
[B]Tomay [G#m]joto golpo [F#]bolar [B]chilo,
Tomay [G#m]joto golpo [F#]bolar chilo,[B]o
Shob [G#m]papri hoye [F#]gacher pashe,
[E]choriye roye [B]chilo
Daoni tumi [E]amay se shob,
[F#]Kuriye neowar [B]kono karon
Preme pora baron, [G#m]karone okaron
Oi [E]maya chokhe chok rakhleo,
[F#]phire takano [B]baron
[G#m] [E] [F#] [B]
[G#m]Shunne vashi [Ebm]raatri ekhono [G#m] guni,
Tomar amar [F#]nouka baowar,

[G#m]Shunne vashi [Ebm]raatri ekhono [G#m] guni,
Tomar amar [F#]nouka baowar,
[C#]shobdo ekhono [B] shuni
Tai mukh lukiye, [E]thot fuliye
[F#]Boshonter ei [B]smriticharon
Preme pora baron, [G#m]karone okaron
[E]Mone porleo aajke tomai [F#]mone kora [B]baron
Preme pora baron