Shanto Hou Guitar Chords
If you love to play a Bengali song? Anupam Roy's song is always the first choice. So we present Shanto Hou Guitar Chords. Hope you all like this tutorial.
Shanto Hou Guitar Details
Shanto Hou is a new song from the upcoming Bengali film Vinci Da. The song is composed, penned and sung by Anupam Roy.
Song: Shanto Hou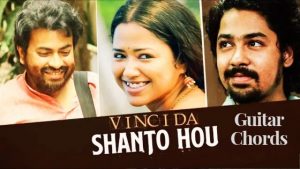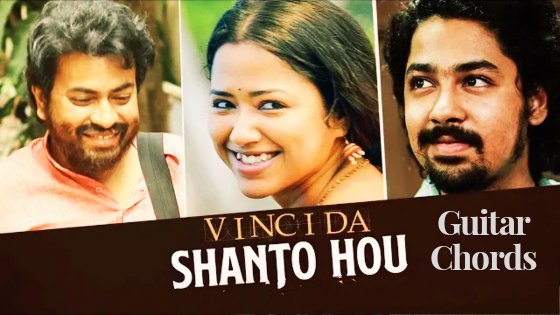 Film: Vinci Da
Singer: Anupam Roy
Music: Anupam Roy
Lyrics: Anupam Roy
Language: Bengali
Year: 2019
Shanto Hou Guitar Chords Details
This song is in C major Scale. So all C major relative chords are used in this song are C major, F major, G major, A minor, E minor, and D minor.
Scale: C
Chords: C, Am, G, F, Dm,
Suggested Strumming:  D D UUDUD
Intro Music
[C] [Am] [F] [G]
[C]  [Am]  [F] [G]
[C]Eto chotfot korcho keno ?
[G]Amar dike takao
[Em]Ki korte aaj icche korche [F]bolo ki chao ?
[C]Esho bosho shuni tomar [G]obhigottar kotha bolo
[Em]Etodine jibon tomay [F]ki sekhalo
[C]Ghaser sobuj chitke asche,
[Am]Veja matir gondho tanche
[F]Praan bhore nishwash nao aaj tumi [G]duchokh buje..
Shanto [C]hou..shanto [Am]hou, shanto [Em]hou [F] shanto [C]hou,
Santo [Am]hau santo [Em]hau [F] santo [C]hau
[C]Dharalo rode, eshe darale
[Dm]Ekhane shudhu niro[Am]bota[Dm]
[F]Tomar porichoy, [Em]haway orale
[E]Nijeke hariye [F]felona
[C]Tomar epitaph lekheche jara
[Dm]Tara purota jaa[A]ne na[Dm]
[F]Jokhon akashe, [Em]peyecho sara
[E]Dhoirjo hariye [F]felo na, [G]felo na..[D]
Shanto hou..shanto [Bm]hou, shanto [F#m]hou[G] shanto [D]hou,
santo [Bm]hou santo [F#m]hau [G] shanto [D]hau
Shanto [Bm]hou santo [F#m]hou [G] santo [D]hou
Santo [D]hau santo [Bm]hou santo [F#m]hou [G]