Tere Naam Guitar Chords with Intro Lesson
Guitartwitt Introducing Tere Naam Guitar Chords With Intro Lesson
Tere Naam is one of the most famous hindi song in Bollywood. This is a title track from the Salman Khan's most successful film Tere Naam. The song is sung by the melody king Udit Narayan & melody queen Alka Yagnik.The composition is composed by Himesh Reshammiya and lyrics are written by Sameer.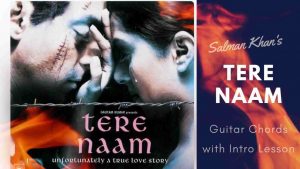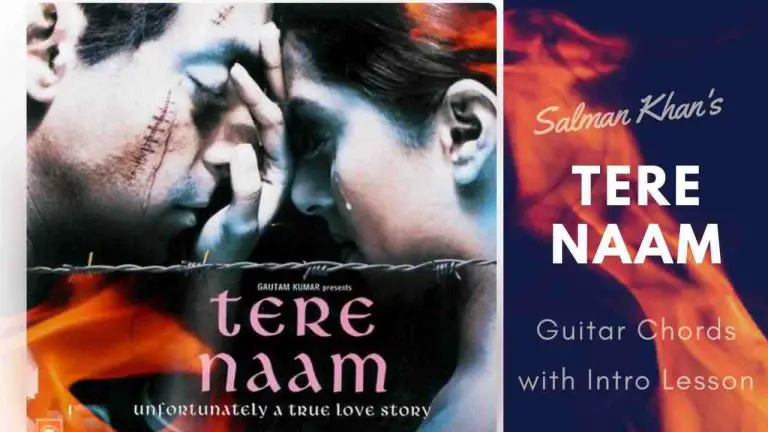 Song: Tere Naam
Film: Tere Naam
Singer: Udit Narayan & Alka Yagnik
Music: Himesh Reshamiya
Lyrics: Sameer
Cast: Salman Khan, Bhoomika Chawla
Music Label: T-Series
The song is in B major Scale.
Scale: B
Chords: B, F#, E, G#m
Suggested Strumming: D UUD
 


Guitar intro
E|-----------------7-6-9-7-6------- 
B|------7-9-7-7-7------------9-9--- 
G|--8-9---------------------------- 
D|--------------------------------- 
A|--------------------------------- 
E|---------------------------------


E|------------------7-6-------------- 
B|----7-9-7/9-9--9------9-7-7--9-7h9- 
G|8-9-------------------------------- 
D|----------------------------------- 
A|----------------------------------- 
E|-----------------------------------


E|----------------------7-6-9-7-6h7-- 
B|---------7-9-7h9-7-7--------------9 
G|9-8--8-9--------------------------- 
D|----------------------------------- 
A|----------------------------------- 
E|-----------------------------------


E|----------------------7-6---------- 
B|--9------7-9-7/9-9-9------9-7-7--9- 
G|-----8-9--------------------------- 
D|----------------------------------- 
A|----------------------------------- 
E|-----------------------------------


E|-----------------------------------| 
B|7h9--------------------------------| 
G|----9-8----6---8-----6---8---------| 
D|-------------9---9-9---9---9-9-----| 
A|-----------------------------------| 
E|-----------------------------------|

 

(F#)Tere (B)naam
humne (G#m)kiya hai
Jee(E)van apna (F#)sara sanam
Ho o (B) o
Jee(E)van apna (F#)sara (B)sanam

(F#)Tere (B)naam ( la la la la )
(F#)Tere (B)naam ( la la la la)
(F#)Tere (B)naam
humne (G#m)kiya hai
Jee(E)van apna (F#)sara sanam
Ho o (B) o
Jee(E)van apna (F#)sara (B)sanam

(F#)Pyaar (B)bahut
karte hain (G#m)tumse
Ishq (E)hai tu hu(F#)mara (B)sanam

(B)La ..la la laa la la laala la aa
(F#)Lala la (B)lala laa la (G#m)laa lala Lala (E)laa la
(F#)la la la (B)laa la

 


Guitar Piece
E|-----------------7-6-9-7-6------- 
B|------7-9-7-7-7------------9-9--- 
G|--8-9---------------------------- 
D|--------------------------------- 
A|--------------------------------- 
E|---------------------------------


E|------------------7-6-------------- 
B|----7-9-7/9-9--9------9-7-7--9-7h9- 
G|8-9-------------------------------- 
D|----------------------------------- 
A|----------------------------------- 
E|-----------------------------------


E|----------------------7-6-9-7-6h7-- 
B|---------7-9-7h9-7-7--------------9 
G|9-8--8-9--------------------------- 
D|----------------------------------- 
A|----------------------------------- 
E|-----------------------------------


E|----------------------7-6---------- -------|
B|--9------7-9-7/9-9-9------9-7-7--9-7h9-----|
G|-----8-9-------------------------------9-8-|
D|-------------------------------------------| 
A|-------------------------------------------|
E|-------------------------------------------|


Stanza 1
(B)Gulshan bhi abto (B)virana (E)lagta hai
(B)Har apna humko (B)begana (E)lagta hai
(B)Hum teri yaadon mein (B)khoye (E)rehte hain
(BLog hume pa(gal de(B)ewana (E)kehte hain
(B)tere bina
(F#)Tere (B)bina
(naa mumkin(G#m)hai
zinda(E)gi ka gu(F#)jara sanam
(B)Ho o o
Zinda(E)gi ka gu(F#)jara sa(B)nam
Stanza 2
(B)Naino se behte ashqo ke (E)dhaaro me
(B)Humne tujhko dekha (chand (E)sitaro mein
(B)Birha ki agnee mein pal pal (E)tapti hai
(B)Ab to sanse teri mala (E)japti hai
(B)tere liye tere liye
(F#)Tere (B)liye is duni(G#m)ya ka
har si(E)tam hai ga(F#)wara sanam
(B)ho o o
har si(E)tam hai ga(F#)wara sa(B)nam
(F#)Tere (B)naam
humne (G#m)kiya hai
jee(E)van apna (F#)sara sanam
Ho (B)o o
jee(E)van apna (F#)sara sa(B)nam