Bangladesher Meye Guitar Chords
If you like Anupam Roy's song, this is the best song to play on guitar. Introducing Bangladesher Meye Guitar Chords. Learn to play Anupam Roy's Bangladesher Meye.
Chords Info
If you are a intermediate player, this song will be a best song to play with the guitar. The song is in F major scale. So, Chords we need to play, F major, C major, D minor, Bb major or A# major.
Scale: F major
Chords: F, C, Dm, Bb/A#
Strumming: D DU DU
Song Credit
The song song is composed, written and sang by Anupam Roy.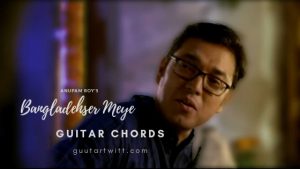 Album: Bangladesher Meye
Singer: Anupam Roy
Music: Anupam Roy
Lyrics: Anupam Roy
[F] [Gm] [F] [Gm7] [Dm] [Gm7]
[Dm] [F] [Dm] [Gm7] [Dm] [F]
Ogo bangladesher meye[Gm]
[F]Tumi onek kothai bolle
Amai amar dike [Gm]cheye [Bb]
Bhalobese ami [C]felechi
Janate chaychi [A]lojjar
Matha [Dm]kheye [F] [Gm] [F]
[Gm] [F]
Tumi esecho amar ghore
Tumi thakte asoni jani
Seta ami firbe [Dm]ektu [Gm7]pore
Tobu [Bb]jetuku ami [C]peyechi
Tumi choriy giyecho
Moner [A]nan [F]storey [Am]
[Dm] [F]Ogo bangladesher meye
Stanza
[F]Buke chepe dhore
[Dm]Kendechi ojhore
[Gm]Kotha theke eto
Sneho gorai
[F]Koto ki je bhabi
[Dm]Sobi habi jabi
Benche tha[Gm]kar sudhu
Maya barai
Bhabini ebhabe [C]chube
Ei [A]sorire dou[Dm]dobe
Tumi [Gm]abar asbe [C]kobe
[F]Ogo bangla desher meye
Stanza
Bangladesher Meye Guitar Chords[F]Muche debo ami
[Am]Seema re[Dm]kha joto
Ama ei prithibi [Gm]nijei sajai
[F]Niyame tala [Dm]bhenge diye ami
Jani khunje nebo [Gm]ami ki chay
Bhabini ebhabe [C]chube
Ei [A]sorire dou[Dm]dobe
Tum [Gm]abar asbe ko[C]be
Ogo (C)bangla desher (F)meye
Ogo [F]bangladesher (F)meye
Tumi onek kothai bolle
Amai amar dike [Gm]cheye
[Bb]Bhalobese [C]ami felechi
Janate chaychi [A]lojjar
[Dm]Matha kheye
[F]Tumi esecho amar ghore
Tumi thakte asoni [Dm]jani
Seta ami firbe ektu pore[Bb]
Tobu [C]jetuku ami peyechi
Tumi choriy giyecho
[Dm]Moner nan [Dm]storey
[F]Ogo bangladesher meye
Lets play
Shanto Hou | Vinci Da | Anupam Roy | Guitar Chords
Amake Amar Moto Thakte Dao Guitar Tab | Autograph | Anupam Roy
Hridoyer Rong | Lagnajita | Ghare and Baire | Anupam Roy | Guitar Chords