Aye Mere Humsafar Guitar chords
Presenting Aye Mere Humsafar Guitar chords
Aye Mere Humsafar is a beautiful evergreen Bollywood Romantic Song from the film Qayamat Se Qayamat Tak.
This beautiful song is sung by Melody king Udit Narayan And Melody queen Alka Yagnik. 
This song features Amir Khan And Juhi Chawla. This soundtrack is composed by Anand Milind and lyrics is penned by Majrooh Sultanpuri.
Aye Mere Humsafar Song Credit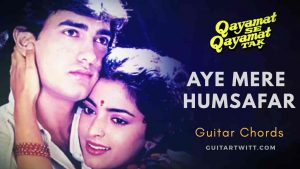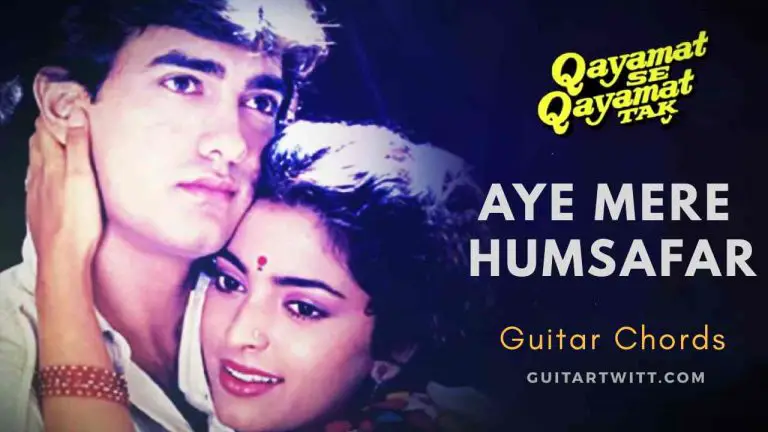 Song: Aye Mere Humsafar
Film: Qayamat Se Qayamat Tak
Singer: Udit Narayan & Alka Yagnik
Music: Anand-Milind
Lyrics: Majrooh Sultanpuri
Cast: Amir Khan & Juhi Chawla
Language: Hindi
Aye Mere Humsafar Guitar Chords Info
The song is originally on G minor scale, So to play this song we need these chords as G minor, F major, C major Bb major.
Scale: Gm
Chords: Gm, F, Eb, G, Bb, C
Strumming: D DUD D D

Gm          Eb
Aye mere humsafar
Gm           F
Ek jara intajaar
F
Sun sadayen de rahi hai
Gm
Manjil pyaar ki

Gm          Eb
Aye mere humsafar
Gm           F
Ek jara intajaar
F
Sun sadayen de rahi hai
Gm
Manjil pyaar ki

Gm          Eb
Aye mere humsafar
Gm           F
Ek jara intajaar
F
Sun sadayen de rahi hai
Gm
Manjil pyaar ki
Stanza 1

Gm                    F
Ab hai judaai ka mausam
F                     Bb
Do pal ka mehmaan
Gm                       F
Kaise naa jayega andhera
F                            Gm
Kyun naa thamega toofaan

Gm                    F
Ab hai judaai ka mausam
F                     Bb
Do pal ka mehmaan
Gm                      F
Kaise naa jayega andhera
F                             Gm
Kyun naa thamega toofaan
G             C    F
Kaise naa milegi
Gm
Manjil pyaar ki



Gm          Eb
Aye mere humsafar
Gm           F
Ek jara intajaar
F
Sun sadayen de rahi hai
Gm
Manjil pyaar ki i
Stanza 2

Gm                        F
Pyaar ne jahan pe rakha hai
F                            Bb
Jhum ke kadam ik baar
Gm                              F
Wahin se khula hai koi rasta
F                          Gm
Wahin se giri hai dewaar
Gm                        F
Pyaar ne jahan pe rakha hai
F                            Bb
Jhum ke kadam ik baar
Gm                              F
Wahin se khula hai koi rasta
F                          Gm
Wahin se giri hai dewaar
G             C    F
Roke kab ruki hai
F                  Gm
Manjil pyaar ki
Gm          Eb
Aye mere humsafar
Gm           F
Ek jara intajaar
F
Sun sadayen de rahi hai
Gm
Manjil pyaar ki
Gm          Eb
Aye mere humsafar
Gm           F
Ek jara intajaar
F
Sun sadayen de rahi hai
Gm
Manjil pyaar ki