Tum Hi Aana Chords by Jubin Nautiyal
Presenting "Magar Iss Baar TUM HI AANA CHORDS" by Jubin Nautiyal from the film Marjaavaan.
"Tum Hi Aana" is a new heart-melting song from the film MARJAAVAAN featuring Siddharth Malhotra and Tara Sutaria.

You definitely love to play this song on guitar because of its melody which is composed of Payal Dev and the lyrics are penned by Kunaal Verma.
Chords Info
The song is on the E minor scale. To play this song we need only four chords, like E minor, D major, C major, and A minor.
You can play this song in Easy Open Chords as shown below.
Key: Em
Chords: Em, D, C, Am
Suggested Strumming: DU DU DU DU
Stroke
D = Down Stroke
U = Up Stroke
Chords Structures
Chords
Em – 022000
D – xx0232
C – x32010
Am – x02210
[Em] [D] [C] [Em]
[Em] [D] [C] [Em]
Tere [C]jaane ka [Em]gham
Aur na [C]aane ka [Em]gham
Phir za[C]maane ka [Em]gham
Kya karein?
Raah [C]dekhe na[Em]zar
Raat [C]bhar jaag [Em]kar
Par te[C]ri toh kha[Em]bar na mile
Ba[Bm]hut aa[Em]yi gayi yaa[D]dein
Magar iss [Bm]baar tum hi aa[C]na
[Em]Iraade [C]phir se jaane [D]ke nahi laa[Bm]na
Tum hi aa[C]na!
[Interlude]
[Em] [Am] [D] [C]
[Em] [Am] [D] [C]
[Em] [C] [D] [Em]
Meri deh[D]liz ho [Am]kar
Bahare [C]jab guzarti [Em]hai
Yahaan kya [D]dhoop kya saa[Am]wan
Hawayein [C]bhi barasti [Em]hai
Humein poocho kya hota [D]hai
Bina dil [Bm]ke jiye jaa[C]na
Ba[Bm]hut aa[Em]yi gayi ya[D]dein
Magar iss [Bm]baar tum hi aa[C]na
[Em]Iraade [C]phir se jaane [D]ke nahi laa[Bm]na
Tum [C]hi aana
[Interlude]
[Em] [D] [C]
[Em] [D] [C]
[Em] O o o …….o o [C]o
[D]O ..o.o….[C]o o o [Em]o
Koi toh [D]raah woh ho[Am]gi
Jo mere [C]ghar ko aati [Em]hai
Karo pee[D]cha sadaaon [Am]ka
Suno kya [C]kehna chahti [Em]hai
Tum [Bm]aao[Em]ge mujhe mil[D]ne
Khabar yeh [Bm]bhi tum hi laa[C]na

Ba[Bm]hut aa[Em]yi gayi yaa[D]dein
Magar iss [Bm]baar tum hi aa[C]na
[Em]Iraade [C]phir se jaane [D]ke nahi laa[Bm]na
Tum [C]hi aana
[Bm]Marjaavaan….ma[D]rjaavaan..[Em]
Tum Hi Aana Chords Image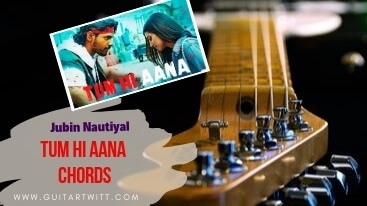 Track Info
Song: Tum Hi Aana
Singer: Jubin Nautiyal
Album: Marjaavaan
Lyricist: Kunaal Vermaa
Music: Payal Dev
Director: Milap Zaveri
Cast: Riteish Deshmukh, Sidharth Malhotra, Tara Sutaria
Music Label: T-Series