Vaaste Guitar Chords by Dhvani Bhanushali
Learn to play Vaaste Guitar Chords by Dhvani Bhanushali.
Vaaste is the most successful music video from T-Series which is sung by Dhvani Bhanushali & Nikhil D Souza. Song is composed by Tanishq Bagchi and lyrics of the song is written by Arafat Mehmood.
The song became the most successful song in her career with 694 million views with 5.9 millions likes by the end of January 2020.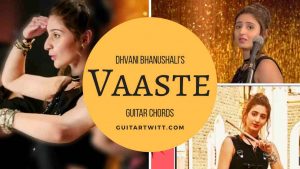 Vaaste Guitar Chords Details
This beautiful song is played on the F major scale. So chords we need to play are F major, C major, Bb major and D minor.
Scale: F
Chords: F, C, Bb, Dm
Suggested Strumming: D D UUD D
Chords Structure
F – 133211
Bb – x13331
Dm – xx0231
Song credits
Tanishq Bagchi did another magical composition "Vaaste'.
So this is a guitar-based song you definitely love to play this beautiful song. So here we are presenting Vaaste Guitar Chords.
Song: Vaaste
Singer: Dhvani Bhanushali & Nikhil D' Souza
Music: Tanishk Bagchi
Lyrics: Arafat Mehmood
Music Lebel: T-Series
Cast: Siddharth Gupta & Anuj Saini
Intro
[F] [C] [Dm][Bb][F][C]
[F] [C] [Dm][Bb]

Vaas[F]te jaan bhi doon
Main [C]ganwa imaan bhi doon
Kisma[Dm]ton ka likha mod [Bb]doon
Badle [F]mein main tere
Jo khu[C]da khud bhi de
Janna[Dm]tein sach kahoon chhod [Bb]doon
Tumse zya[F]da main na jaanu
Tumse [C]khud ko main pehchanu
Tumko [Dm]bas main apna maanu ma[Bb]hiya
Vaas[F]te jaan bhi doon
Main [C]ganwa imaan bhi doon
Kisma[Dm]ton ka likha mod [Bb]doon
[F]Tere alawa koyi bhi khwahish
[C]Nahi hai baaki dil me
[Dm]Kadam uthaun, jahan bhi jaaun
[Bb]Tujhi se jaaun milne tere [F]liye mera safar
Tere [Dm]bina main jaaun ki[C]dhar
Tumse [F]zyada main na jaanu
Tumse [C]khud ko main pehchanu
Tumko [Dm]bas main apna maanu mahi[Bb]ya
Vaas[F]te jaan bhi doon
Main [C]ganwa imaan bhi doon
Kisma[Dm]ton ka likha mod [Bb]doon
Badle [F]mein main tere
Jo khu[C]da khud bhi de
Janna[Dm]tein sach kahoon chhod [Bb]doon
Tu hi hai sa[F]vera mera tu hi ki[C]nara mera
Tu hi hai [Dm]dariya mera
Khuda ka [Bb]zariya mera
Tujhi se [F]hota shuru yeh mera [C]kaarwan
Tujhi pe [Dm]joki khatam
Yeh mera [Bb]saara jahan

Video