Song Credit
This beautiful romantic song is filmed on Amir Khan and Juhi Chawla. The song is sung by Udit Narayan & Alka Yagnik. This composition is composed by Anand Milind.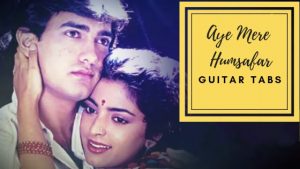 Song: Aye Mere Humsafar
Film: Qayamat Se Qayamat Tak
Singer: Udit Narayan & Alka Yagnik
Music: Anand Milind
Cast: Amir Khan & Juhi Chawla
Lyrics: Majrooh Sultanpuri
Music Label: T-Series
Scale: G minor
To play this solo lesson, we recommend practicing the G minor Scale as much as possible.
Learn to play
Aye Mere Humsafar Intro Tab
(Male)




E--------------------------|




B--------------------------|




G--3--2h3----3-3-2h3-------|




D---------5----------5-----|




A--------------------------|




E--------------------------|




Aye Mere Humsafar






E--------------------------|




B--------3-----------------|




G--3-3-3---5--3--2---2-----|




D------------------5---5-3-|




A--------------------------|




E--------------------------|




Ek Jara intajaar





E---------------------------|




B---------------------------|




G-------2------------2------|




D--3--3---5\3--3-3-3---5\3--|




A---------------------------|




E---------------------------|




Sun sadayen de rahi hai





E---------------------------|




B---------------------------|




G----3--2-------------------|




D----------5-5--------------|




A--5------------------------|




E---------------------------|





Manjil pyaar ki