Bahut Pyaar Karte Hain Guitar Lesson
Learn to play Bahut Pyar Karte Hain Guitar Lesson
Song: Bahut Pyar Karte Hain Tumko Sanam
Film: Sajan
Singer: Anuradha Paudwal
Music: Nadeem Shravan
Lyrics: Sameer
Language: Hindi
Year: 1991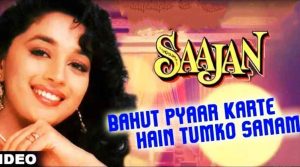 Bahut Pyar Karte Hain Guitar Lesson
"Bahut Pyaar Karte Hain" which is a very beautiful evergreen song from the Bollywood film Sajan. This composition is composed by Nadeem Shravan and Sung by Anuradha Paudwal. The song cast Madhuri Dixit as singer who sings this song in the film.
This melody song becomes more melodious by its guitar tune. So in this lesson we learn its Intro Part and Prelude Guitar Part.
To play this part easily we need to practice its base scale which is E minor scale.
Intro Lesson
E----------7-----------------8-10-7--| 




B--------8---10~~~~-7---7-10---------| 




G---9~~~--------------7--------------| 




D------------------------------------| 




A------------------------------------| 




E------------------------------------|

 
Inerlude Piano Part
Piano part after the synth
   Em      D
E------7-------5----------------------| 
B----8-------7--------------7--8-7----| 
G--9-------7-----------------------9--| 
D------------------10-10-10-----------| 
A-------------------------------------| 
E-------------------------------------|
Piano Part
E----7---7---7--------------------------------| 
B--------------10-10-10----10---10---10-8-8-8-| 
G--9---9---9-------------7----7----7----------| 
D---------------------------------------------| 
A---------------------------------------------| 
E---------------------------------------------| 
Guitar Part
E--------------------------------------------| 




B------5---5---------------------------------| 




G--4-5---4---4-------------------------------| 




D--------------7\5-5\4-4---4-5-7-5-4-5-4-----| 




A------------------------5---------------7---| 




E--------------------------------------------| 




* Last three not will be played as triplet