Humnava Mere Guitar Chords | Jubin Nautiyal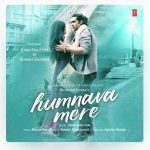 Song: Humnava Mere
Singer: Jubin Nautiyal
Music: Rocky Shiv
Lyrics: Manoj Muntashir
Language: Hindi
Year: 2018
Presenting Humnava Mere Guitar Chords
Jubin Nautiyal introduces a beautiful new song "Humnava Mere". This beautiful composition is composed by Rocky-Shiv. The song is penned by Manoj Muntashir.
Chords & Strumming
This beautiful song is on F minor scale. So to play this song we'll use F minor, G#, D#, C#, and Bbm.
Scale: Fm
Chords: Fm, G#, D#, C#, Bbm
Suggested Strumming: D UUD
Humnava Mere Guitar Chords
[Fm]Ha aa aa aa aa [D#]aa aa
Ha aa [G#]aa aa Haa[D#] aa [Fm]aa
[Fm]Kal raaste mein
[Fm]gum mil [D#]gaya tha
[C#]Lag ke gale main ro [Fm]diya
[Fm]Jo sirf mera tha sirf [D#]mera
[C#]Maine use kyun kho [Fm]diya
[Fm]Ha wo ankhein jinhe main
chum [Bbm]ta tha be[D#]wajah
Pyaar [Fm]mere liye kyun
Unme  [Bbm]baki na [D#]raha
[Fm]Ha a a a a
[Fm]Humnava mere
Tu hai to [D#]meri saansein chale
Bata de [G#]kaise main
[D#]jiunga tere [Fm]bina
[Fm]Humnava mere
Tu hai to [D#]meri saansein chale
Bata de [G#]kaise main
[D#]jiunga tere [Fm]bina

Stanza1
[Fm]Har waqt dil ko [D#]jo sataye
[Bbm]Aisi kami hai [D#]tu
[Fm]Main bhi na janu [D#]ye ke itna
[Bbm]Kyun lazmi hai [D#]tu
[Fm]Nindein jake na lauti
Itni [Bbm]ratein dhal [D#]gayi
[Fm]Itne taare gine ke
Ungliyan [Bbm] jal gayi
[Fm]Ho o o [D#]o
[Fm]Humnava mere
Tu hai to [D#]meri saansein chale
Bata de [G#]kaise main
[D#]jiunga tere [Fm]bina
[Fm]Ho o o
[Fm]Humnava mere
Tu hai to [D#]meri saansein chale
Bata de [G#]kaise main
[D#]jiunga tere [Fm]bina

Stanza2
[Fm]Tu akhiri aan[D#]su o yaara
[Bbm]Hai akhiri tu [D#]gum
[Fm]Dil ab kahan hai [D#]Jo dobara
[Bbm]De de kisi ko [D#]hum
[Fm]Apni shaamon mein [D#]hissa
Phir [Bbm]kisi ko na [D#]diya
[Fm]Ishq tere [D#]bina hi
Maine [Bbm]tujh se hi [D#]kiya
[Fm]Ho o o [D#]o
[Fm]Humnava mere
Tu hai to [D#]meri saansein chale
Bata de [G#]kaise main
[D#]jiunga tere [Fm]bina
[Fm]Ho o o
[Fm]Humnava mere
Tu hai to [D#]meri saansein chale
Bata de [G#]kaise main
[D#]jiunga tere [Fm]bina
[Fm]Aazma raha
Mujhe kyun [D#]aa bhi jaa kahin se
Ab tu [G#]Kaise main
[D#]jiunga tere [Fm]bina
[Fm]Seenein mein jo dhadkane hai
[D#]tere naam pe chale hai
[G#]Kaise main [D#]jiunga tere [Fm]bina
[Fm]Humnava mere
Tu hai to [D#]meri saansein chale
Bata de [G#]kaise main
[D#]jiunga tere [Fm]bina