Dancing In The Sky Guitar Chords by Dani & Lizzy 
Learn to play Dancing in the Sky Guitar Chords by Dani & Lizzy.
Chords Details
Scale: B
Chords: B, F#/Gb, G#m, E, F#sus4,
Strumming: DDUD
B – x24442
F# – 244322
G#m – 466444
E – 023100
F#sus4 -244422
Song Credit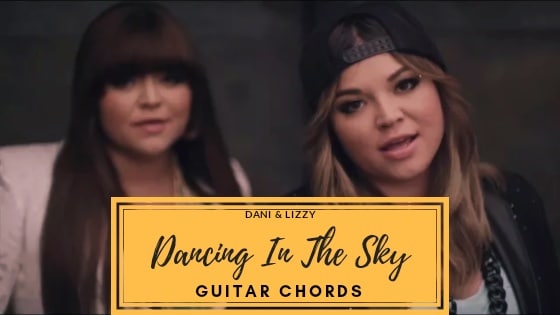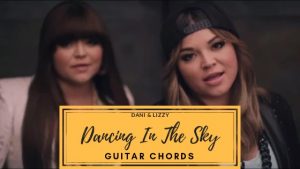 Song: Dancing In the sky
Singers: Dani & Lizzy
Album: Work Of Heart
Genre: Pop
Language: English
Tell Me [B]What Does it look Like In [F#]Heaven?
Is It [G#m]Peaceful? Is It Free Like They [E]Say?
Does [B]The Sun Shine Bright [F#]Forever?
Have Your [G#m]Fears And Your Pain Gone [E]Away?
Cause [F#]here On Earth It Feels Like [G#m]Everything
Good Is [F#]Missing Since You [G#m]Left
And [E]Here On Earth Everything's [B]Different,
There's An [F#sus4]Emptiness
[F#]Oh Oh Oh I,
I Hope You Are [G#m]Dancing
In [F#]The [E]Sky
I Hope You're [B]Singing in
The angel's [F#]Choir
I Hope The [G#m]Angels [F#]Know
What They [E]Have
I'll [F#]bet It's So [B]Nice Up In Heaven
Since [G#m]You [F#]Arrived
So Tell Me, [B]What Do You Do Up In [F#]Heaven?
Are Your [G#m]Days Filled With Love and [E]Light?
Is There [B]Music? Is There Art And [F#]Invention?
Tell Me Are You [G#m]Happy? Are You More [E]Alive?
Cause [F#]here On Earth It Feels Like [G#m]Every Thing
Good Is [F#]Missing Since You [G#m]Left
And [E]Here On Earth Everything's [B]Different,
There's An [F#sus4]Emptiness
[F#]Oh Oh Oh I,
I Hope You Are [G#m]Dancing
In [F#]The [E]Sky
I Hope You're [B]Singing in
The angel's [F#]Choir
I Hope The [G#m]Angels [F#]Know
What They [E]Have
I'll [F#]bet It's So [B]Nice Up In Heaven
Since [G#m]You [F#]Arrived
[F#]Oh Oh Oh I,
I Hope You Are [G#m]Dancing
In [F#]The [E]Sky
I Hope You're [B]Singing in
The angel's [F#]Choir
I Hope The [G#m]Angels [F#]Know
What They [E]Have
I'll [F#]bet It's So [B]Nice Up In Heaven
Since [G#m]You [F#]Arrived
Since You [B]Arrived