"Pehle Pyaar Ka Pehla Gham" is the latest Music video sung by Jubin Nautiyal, & Tulshi Kumar. The song is composed by Manan Bhardwaj.
The lyrics of this track are given by Javed Akhtar & Rashmi Virag.
The track is the remake of the '90s "Pehle Pyaar Ka Pehla Gum" by Kavita Krishnamurthy from the film "Papa Kehte Hain". The key of the track is F major.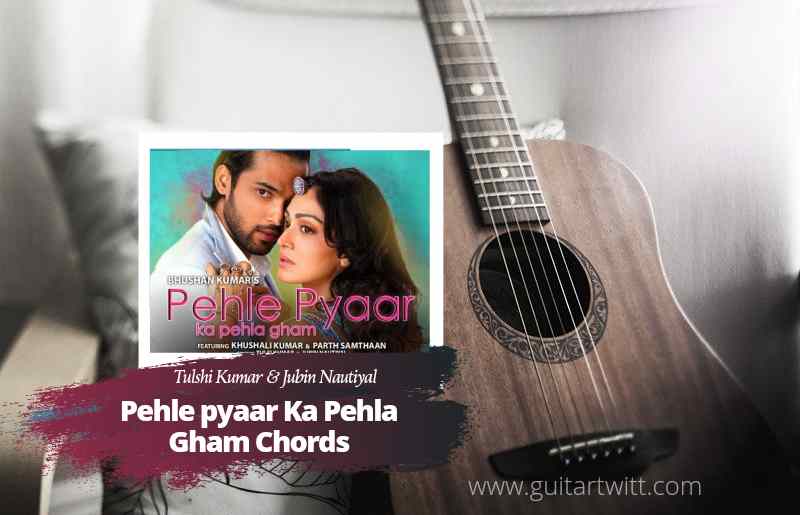 Chords Info
Tuning: Standard(EADGBE)
Key: F
Chords: F, Gm, Gm7, Am, Bb, C, Dm
Suggested Strumming: D DU UDU
D= Down Stroke, U = Upstroke, N.C= No Chord
Guitar Chords
Ukulele Chords
F – 133211
Gm – 355333
Gm7 – 353333
Am – x02210
Bb – x13331
C – x32010
Dm – xx0231
F – 2010
Gm – 0231
Gm7 –
Am – 2000
Bb – 3211
C – 0003
Dm – 2210
F Bb C  
F            Bb
Bin Bole Yun Tera Jana
F             Gm       Bb C
Shayad Na Seh Paye Hum
F          Bbmaj7
Itni Saare Saansein Hai Par
F            Gm   Gm7   Bb  C


Ik Bhi Na Le Paye Hum





F       Am  Bb


Aa Bhi Ja o Na Aaye Toh
             Gm          C
Sach Much Hi Na Mar Jaye Hum


F              Dm    Bb   F
Pehle Pyaar Ka Pehla Gham
               Bb          Gm  C


Pehli Baar Hai Aankhe Nam





F              Dm


Pehle Pyaar Ka Pehla Gham
Bb             C
Pehli Baar Hai Aankhe Nam
F         Gm           C  F
Pehla Hai Tanhai Ka Ye Mausam
     Gm         C           F


Arey Aa Bhi Jao Varna Ro Denge Hum





     F    


Mera Tan Man Sara 
     Dm
Tere Rang Mein Rangaya
     Bb             C
Meri Rooh Mein Tera Ishq Base
      Gm                   C
Maine Sudh Budh Khoyi Sara Chain Gavaya
      Dm


Tu Jo Sath Nahi Dhadkan Na Chale





Bb        C            F


Aa Bhi Jao Varna Ro Denge Hum
F


Pehle Pyaar Ka Pehla Gham






    F           Dm 


Saj Dhaj Ke Teri 
     Bb          C
Main Raah Takoon
    F
Saj Dhaj Ke Teri 
     Dm
Main Raah Takoon
Bb              C
Tarikh Bata Kab Aaoge
Gm            C  
Baat Dinon Ki Ya Barson Ki
Dm
Kitna Waqt Lagaoge
Bb         C           F


Aa Bhi Jao Varna Ro Denge Hum






            Dm


Maana Ke Doori Si Hai
Gm          F
Thodi Majboori Bhi Hai
Gm           C           F
Lekin Ek Din Badlenge Ye Mausam
     Gm          C          F
Haan Tumko Jyada Rone Na Denge Hum




     F#                   D#m


Meri Nind Mein Khwab Mein Sab Mein Tu
     B             C#
Main Teri Hoon Aur Mujh Mein Tu
    G#m               C#
Hai Yaqeen Khud Se Jyada Tujhpe
    D#m


Bas Itni Araz Se Tod Na Tu





B          C           F#


Aa Bhi Jao Varna Ro Denge Hum
               N.C


Pehle Pyaar Ka Pehla Gham
Song Details