When it comes to guitars that captivate both musicians and enthusiasts alike, the Squier Paranormal Jazzmaster XII stands in a league of its own. With its unique design and hauntingly beautiful sound, this guitar promises to take players on a paranormal musical journey like no other. In this comprehensive review, we will delve into the mysteries of the Squier Paranormal Jazzmaster XII, exploring its features, tone, playability, comparisons to other guitars, and more. Get ready to uncover the secrets behind this extraordinary instrument.
Understanding the Paranormal Jazzmaster XII
Before we dive into the details of the Squier Paranormal Jazzmaster XII, it is essential to understand the context in which it was born. The Squier Paranormal series, known for pushing boundaries and exploring unconventional concepts, introduces us to a realm where the ordinary becomes extraordinary. Within this series, the Jazzmaster XII emerges as a result of artistic innovation and vintage inspiration.
Harking back to the origins of the Jazzmaster, Squier has recreated this classic 12-string phenomenon, infusing it with a touch of the paranormal. The Jazzmaster XII boasts the iconic offset body shape, reminiscent of the avant-garde designs of the 1960s. Its double-cutaway curves, paired with a stunning range of color options, make it a sight to behold. This guitar beckons players to explore its paranormal character, inviting them into a world of haunting melodies and spectral harmonies.
Features and Specifications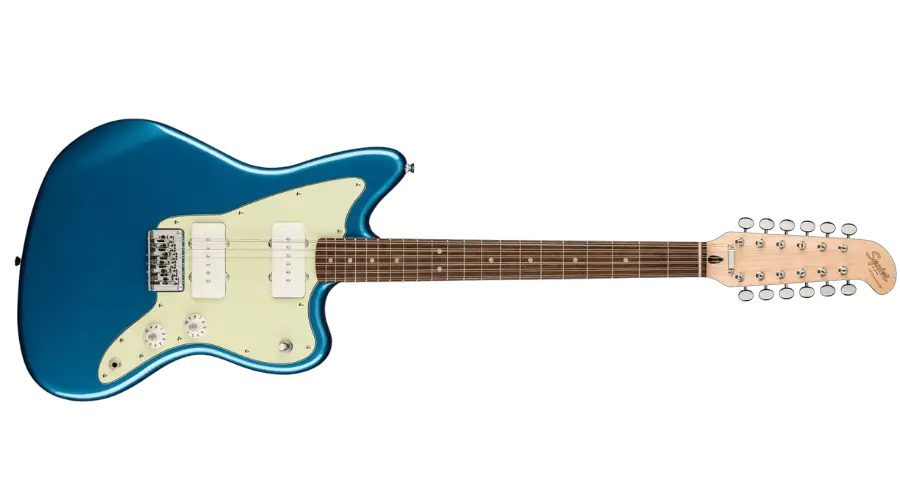 | | | |
| --- | --- | --- |
| Manufacturer: Squier | Number of Frets: 21 | Control: Vol, Tone |
| Series: Paranormal | Fret Format: Narrow Tall | Bridge: Adjustable 12-Saddle Hardtail |
| Body Shape: Jazzmaster | Nut type: Synthetic Bone | Tuners: Vintage-Style |
| Body: Poplar | Nut width in mm: 42.9 | Strap Button: Standard |
| Neck: Maple | Manufacturer pickups: Fender | Hardware: Chrome |
| Neck Construction: Bolt-on | Neck Pickup: Alnico Single Coil | Finish: High-Gloss |
| Neck Profile: 'C' | Pickup: SS | Number of Strings: 12 |
| Fretboard: Laurel | Scale in mm: 648 | String Gauge: .010 – .046 |
| Fretboard Radius in Inches: 9.5 | Bridge Pickup: Alnico Single Coil | Body Type: Solid Body |
| Fretboard Inlays: Dot | Switch: 3-Way | Color:2 (Lake Placid Blue & Olympic White) |
Exploring the 12-string magic
The Squier Paranormal Jazzmaster XII's fascinating 12-string arrangement is one of its most appealing features. While ordinary 6-string guitars have a vast range of sound possibilities, the additional strings on this instrument open up an entirely new aural dimension. The Jazzmaster XII offers an enthralling blend of warmth, richness, and complexity that only a 12-string guitar can provide.
Unveiling the electronics and pickups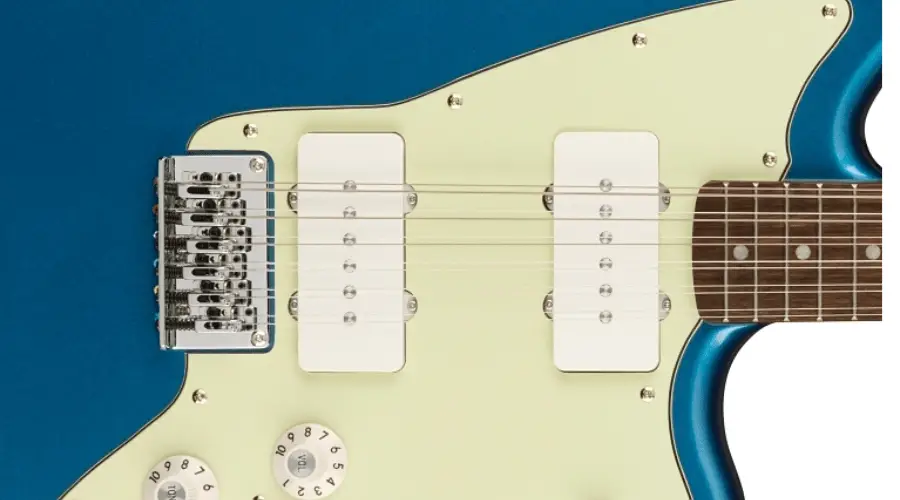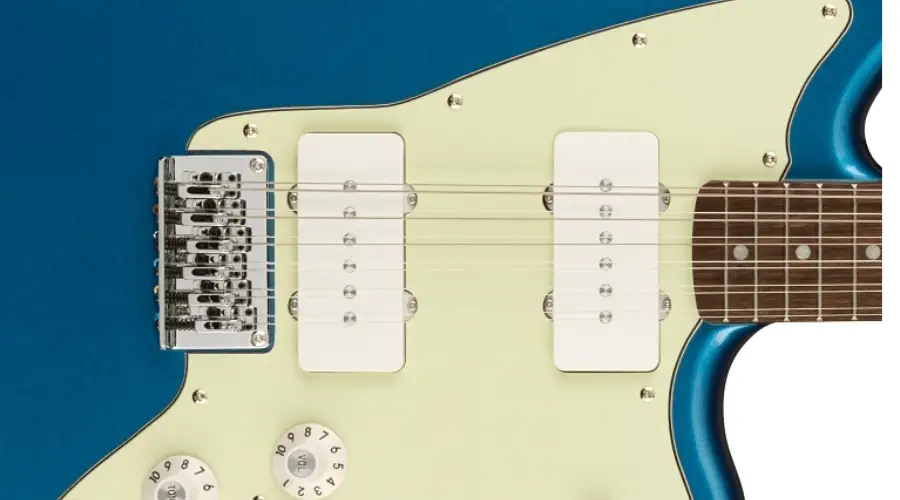 Squier has equipped this guitar with custom-designed pickups to capture the authentic essence of the Spooky Jazzmaster XII. These pickups are designed to bring out the distinct tonal features of a 12-string guitar. Squier has guaranteed that every note, from the lowest lows to the sparkling highs, is authentically reproduced through rigorous engineering. Gamers may expect clear clarity while keeping the Jazzmaster XII's vintage-inspired charm.
A closer look at the body, neck, and hardware
Squier has spared no detail in constructing an instrument of unmatched craftsmanship, including the body, neck, and hardware. The body is made of carefully chosen tonewoods that increase resonance and sustain. The Jazzmaster XII features great playability, with a streamlined neck shape and a comfy fretboard that allows guitarists to easily navigate the 12-string terrain. The hardware is strong and dependable, ensuring stability and perfect tuning even during the most demanding musical performances.
Diving into the controls and switching options
Exploring the controls and switching options of the Jazzmaster XII shows a plethora of possibilities. Players have great control over crafting their preferred sound with distinct volume and tone settings for each pickup. The dual-circuit design and distinctive switching choices provide a wide range of tone alterations, ensuring infinite exploration and innovation.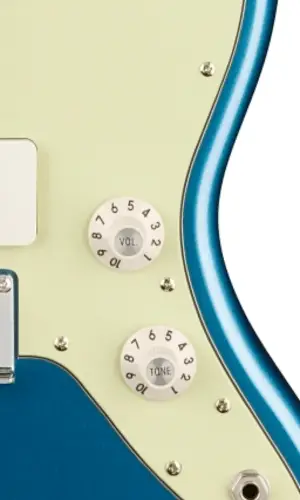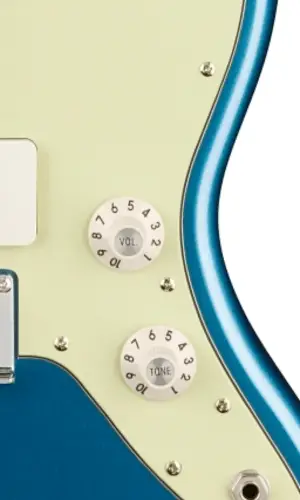 Tone and Playability
A hauntingly beautiful 12-string sound:
The tone of the Squier Paranormal Jazzmaster XII is its defining characteristic. Whether chords or melodies are played on this 12-string guitar, its sound possesses an unearthly allure. Rich harmonics and lush resonance produced by doubled strings transport players to a domain of ethereal beauty. The Paranormal Jazzmaster XII is a true sonic masterpiece, generating enchanting sounds that evoke powerful emotions and captivate listeners.
The impact of the unique pickup configuration:
The Jazzmaster XII's distinctive pickup configuration substantially affects its tone. With pickups designed particularly for a 12-string guitar, players can anticipate clarity and definition of the highest caliber. Each note is articulated precisely, enabling intricate playing and intricate chord voicings. The pickups capture the nuances of the player's touch, lending nuance and depth to every performance.
Adjustability and playability: A guitarist's dream
In addition to its captivating tone, the Paranormal Jazzmaster XII's playability is exceptional. The comfortable neck profile and well-dressed frets invite players to explore the instrument's maximum potential through a smooth and effortless playing experience. The Jazzmaster XII responds with impeccable accuracy and sensitivity, making it a guitarist's dream instrument, whether strumming, fingerpicking, or executing intricate solos.
Capturing the Essence of the Paranormal Jazzmaster XII:
It can be difficult to capture the substance of the Paranormal Jazzmaster XII, as its paranormal nature transcends mere technical specifications. This instrument beckons players to channel their imagination and become immersed in its eerie soundscapes. The Jazzmaster XII opens doors to new musical dimensions, allowing both seasoned and aspiring musicians to discover their own musical spirits.
Unleashing the Paranormal Potential
Embracing the guitar's versatility across genres
One of the greatest strengths of the Squier Paranormal Jazzmaster XII lies in its versatility across various musical genres. From shimmering folk styles to psychedelic rock and everything in between, this guitar adapts seamlessly, providing musicians with the sonic palette needed to create their desired sound. The Paranormal Jazzmaster XII effortlessly embraces and elevates any genre, allowing players to explore their musical vision without limitations.
Standing out in both studio recordings and live performances
In the studio, the Jazzmaster XII's unique tonal qualities translate into impactful recordings. Its rich, complex sound adds a layer of depth to any mix, making it a go-to instrument for producers and engineers. Whether used as the main focus or to add texture to a recording, the paranormal character of this guitar can help create an atmospheric ambiance that entrances listeners.
On stage, the Paranormal Jazzmaster XII is a showstopper. Its striking visuals, coupled with its haunting sound, command attention in any live performance setting. Whether playing in an intimate venue or on a grand stage, this guitar is sure to captivate both the eyes and ears of the audience. The unique tonal possibilities and exceptional playability of the Jazzmaster XII ensure that every live performance with this instrument is a truly unforgettable experience.
Exploring sonic landscapes with effects and amplifiers
For those who like to explore sonic landscapes, the Jazzmaster XII is a perfect companion for effects and amplifiers. With its 12-string configuration and custom-designed pickups, this guitar responds beautifully to effects pedals, creating a wide range of textures and atmospheres. From lush reverbs and shimmering delays to mind-bending modulation and fuzzy distortions, the paranormal potential of the Jazzmaster XII allows for limitless sonic experimentation.
Comparisons to Other Guitars
Battle of the 12-strings: Paranormal Jazzmaster XII vs. Fender alternatives
When it comes to 12-string guitars, few can match the distinctive charm and paranormal allure of the Squier Paranormal Jazzmaster XII. However, it is only natural to explore how this instrument compares to other options on the market.
In terms of the Fender brand, the Paranormal Jazzmaster XII proves to be a standout contender. While Fender offers its own 12-string models, the Squier Paranormal series has gained recognition for delivering exceptional quality at an affordable price point. The Jazzmaster XII, in particular, boasts features and craftsmanship that rival many higher-priced guitars in the same category.
How does the Squier Paranormal Jazzmaster XII stack up against other brands?
When pitted against guitars from other brands, the Paranormal Jazzmaster XII continues to shine. Its unique tonal characteristics, excellent playability, and eye-catching design make it a strong competitor in the 12-string market. Whether compared to well-established brands or emerging contenders, the Jazzmaster XII holds its ground, offering an unrivaled combination of value and performance.
Also read: Best Acoustic Guitar For Beginners
Pros and Cons
As with any musical instrument, the Squier Paranormal Jazzmaster XII has its own set of strengths and limitations. Let's explore the pros and cons of this enigmatic guitar.
Pros:
The strengths and advantages of the Paranormal Jazzmaster XII
Mesmerizing 12-string tone with rich harmonics
Custom-designed pickups for exceptional clarity and definition
Excellent playability and comfortable neck profile
Eye-catching vintage-inspired design
Versatile across various musical genres
Superior value for money compared to other 12-string guitars
Cons:
Addressing the limitations or drawbacks of the guitar
Availability may vary in certain regions
Limited color options compared to some other models
While the limitations of availability and color options may affect some potential buyers, the strengths of the Paranormal Jazzmaster XII overshadow any drawbacks. Its captivating sound, superb playability, and exceptional value for money make it a guitar worth considering for musicians of all levels.
Reviews and Opinions from Musicians
Musician insights: Real experiences and impressions
To provide a well-rounded perspective on the Squier Paranormal Jazzmaster XII, let's delve into the experiences and opinions of musicians who have had the privilege of playing this extraordinary guitar.
Across the board, musicians have praised the Jazzmaster XII for its exceptional tone and playability. From folk to indie rock, jazz to alternative, players have found the versatility of this guitar to be its standout feature. The rich, shimmering sound produced by the 12-string configuration has been a focal point of admiration, allowing guitarists to add an ethereal touch to their music.
Exploring the Squier Paranormal Jazzmaster XII across different musical genres
When it comes to particular genres, the Squier Paranormal Jazzmaster XII has proven to be an ideal choice for those exploring folk, dream-pop, and psychedelic styles. It's haunting sound and unique tonal qualities effortlessly blend within these genres, adding a layer of depth that enhances the overall sonic experience.
Maintenance and Care
To ensure the longevity and optimal performance of your Squier Paranormal Jazzmaster XII, proper maintenance and care are crucial. Here are some key tips to keep your guitar in top shape:
Recommendations for cleaning, storage, and handling
Clean the guitar regularly, following the manufacturer's instructions for the specific finish.
Store the guitar in a stable environment with a suitable humidity level to prevent warping or damage.
Protect the guitar from extreme temperatures and direct sunlight, which can cause finish discoloration or cracking.
Routinely check the hardware, such as the tuning machines and bridge, for any signs of wear or damage, and address issues promptly.
Handle the guitar with care, avoiding excessive pressure or impact that may cause dents, scratches, or other physical damage.
By following these maintenance guidelines, you can keep your Paranormal Jazzmaster XII in pristine condition, ensuring that it continues to deliver its hauntingly beautiful sounds for years to come.
Squier Paranormal Jazzmaster XII: The Best Fit?
Identifying the target audience and ideal user: The Squier Paranormal Jazzmaster XII appeals to a wide range of musicians, thanks to its versatile nature and exceptional craftsmanship. Identifying the ideal user for this guitar involves considering various factors, such as playing style, skill level, and musical aspirations.
Matching the guitar to different playing styles and skill levels: The 12-string configuration and unique tonal qualities make the Jazzmaster XII an excellent choice for players who value rich, complex sounds. Musicians who frequently explore folk, dream pop, or psychedelic genres will find this guitar to be a perfect fit, as its haunting sound complements these styles exceptionally well.
Is the Paranormal Jazzmaster XII the right fit for you?:
In terms of skill level, the Paranormal Jazzmaster XII is suitable for both intermediate and advanced players. Its comfortable neck profile and excellent playability allow seasoned guitarists to effortlessly navigate the 12 strings while aspiring musicians can embrace the challenge and growth opportunity that this instrument provides.
Ultimately, whether the Squier Paranormal Jazzmaster XII is the right fit for you depends on your personal musical preferences, aspirations, and budget. However, for those seeking a captivating and alluring 12-string guitar that delivers both tonal brilliance and exceptional playability, the Jazzmaster XII is undeniably a top contender.
Price and Value for Money
How does the Squier Paranormal Jazzmaster XII compare in terms of price?
When considering the Squier Paranormal Jazzmaster XII, it is essential to assess its price and value for money. Compared to other 12-string guitars in the market, the Jazzmaster XII presents an excellent balance of affordability and quality craftsmanship.
Evaluating the guitar's overall value and worth
While the price may vary depending on the region and store, the Squier Paranormal Jazzmaster XII falls within a range that makes it accessible to a broader audience. Considering the guitar's exceptional tonal qualities, superior playability, and eye-catching design, it offers a significant level of value that outshines many higher-priced alternatives.
From its 12-string magic to the haunting paranormal character, the Jazzmaster XII delivers a musical experience that rivals its more expensive counterparts. With its combination of affordability and exceptional performance, this guitar provides excellent value for money, making it an enticing option for musicians seeking a unique and inspiring instrument.
Where Can You Find the Squier Paranormal Jazzmaster XII?
Availability and purchase options
For those enticed by the enigmatic charm of the Squier Paranormal Jazzmaster XII, it is essential to know where and how to acquire this extraordinary guitar. Availability may vary depending on the region, but the Jazzmaster XII can typically be found at authorized dealers, both online and in physical stores.
Reputed vendors and retailers
For those captivated by the mysterious allure of the Squier Paranormal Jazzmaster XII, it is crucial to know where and how to acquire this exceptional guitar. Jazzmaster XII is typically available at authorized online and brick-and-mortar retailers. However, Jazzmaster XII's availability may differ by region.
To ensure a seamless purchasing experience and ensure the instrument's authenticity, it is recommended to purchase from reputable vendors and dealers. The Paranormal Jazzmaster XII can be obtained from reputable music stores, authorized online merchants, and well-established e-commerce platforms. Frequently, these vendors offer support and warranty options, giving purchasers peace of mind.
Whether shopping in-store or online, it is prudent to confirm the legitimacy of the vendor, read customer reviews, and compare prices to obtain the best bargain. You can locate the Squier Paranormal Jazzmaster XII from reputable merchants with diligence and discernment, bringing this paranormal musical journey within reach.
**Disclaimer: This article contains Affiliate Link*****