The new Tim Henson Ibanez signature guitar
Tim's newest signature guitar, the TOD10N, is a significant change from his first AZ-based guitar.
Tim Henson's signature guitar tod10n
Ibanez has officially revealed its most recent partnership with contemporary guitar phenom Tim Henson, set for release in 2023. Tim Henson's new signature guitar, the TOD10N, is a significant change from his first AZ-based guitar. When it was featured in Polyphia's music video for the song Playing God and Tim's social media outlets, this unique acoustic/electric guitar immediately attracted curiosity and attention.
Why its more impressive?
Tim drew inspiration for this guitar from an earlier SC500N model from Ibanez. As a solid-body electric guitar with nylon strings and a Piezo pickup mechanism, this older model was distinctive. Even though the TOD10N undoubtedly inspired that model, it stands out from it due to its highly distinct characteristics.
Although the body is hollow in construction, it is based on the FR series. A separate sound hole that faces the player is also a part of the design; it is situated on the upper bout. It also produces a clear, true acoustic tone while maintaining the guitar's sleek, contemporary design. The TOD10N also has to have fan bracing. It was included to facilitate and enhance the Nuevo Flamenco technique that Tim and Polyphia have been experimenting with lately. It is a bracing approach often heard on classical guitars. A solid Sitka spruce top, a fretboard made of walnut, a Fishman Sonicore pickup, and the Tim-designed Tree of Death inlay are further noteworthy characteristics. Early in 2023's first quarter, the TOD10N will begin to be sold in retailers.
The TOD10N has a solid Sitka spruce top, Sapele back and sides, and a C-shaped nyatoh neck at its heart. The latter has a 46mm-wide nut, a Tree of Death Pearloid inlay, 22 frets, and a walnut fretboard on top.
***Also read***
Best Ibanez Electric Guitar Under $1000
About its fretboard.
A 15.7″ fretboard radius and a tidy side sound port round out the features. According to the manufacturer, these features preserve the guitar's clean, contemporary design while also offering a clear and accurate acoustic tone.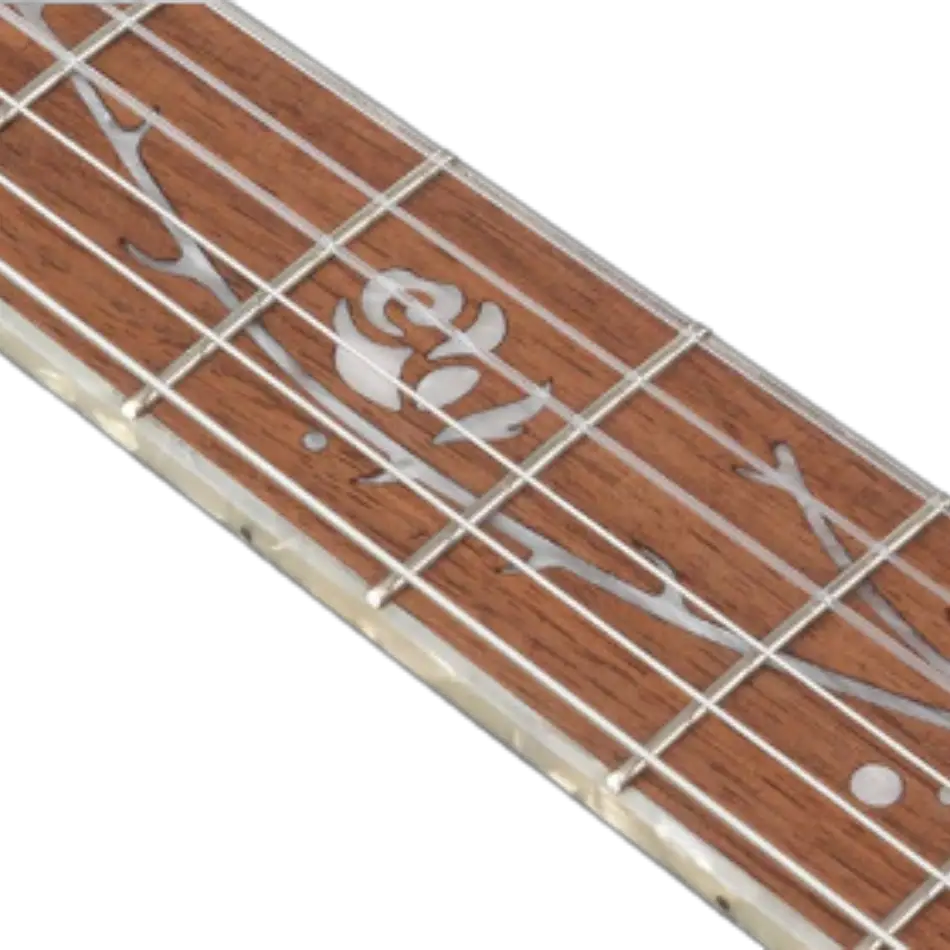 Fan bracing, which is a typical addition to classical guitars, is another noteworthy design feature. It was used to improve the Nuevo Flamenco style and sound that both Henson and Polyphia have been promoting.
It has gold traditional tuners and bone nut and saddle in terms of hardware. The TOD10N has a Fishman Sonicore pickup, an Ibanez AEQ210TF preamp, and an onboard tuner built into the body.
The TOD10N, which is available in a Transparent Black Finish, has already established itself as Henson's go-to guitar after being used on Polyphia's forthcoming album Remember That You Will Die.
Utilisations
It was utilized for the band's previous singles, Neurotica and ABC, as well as the Playing God music video and other unplugged concerts.
Henson revealed his journey into the realm of nylon strings in an interview with Total Guitar earlier this year, saying it all started with the thought, What if I made Polyphia-style, classical-type loops the way beat composers sample recordings of ancient classical guitar playing?
Henson observed his signature, [It] kind of looks like a Telecaster. I aimed to maintain both contemporary aesthetics and a style that was somewhat reminiscent of the classic single cutaway acoustic guitar.
It was added to facilitate and enhance the Nuevo Flamenco style that Tim and Polyphia have recently been playing with. This bracing technique is often seen in classical guitars. Other noteworthy characteristics include a solid Sitka spruce top, a fretboard constructed of walnut, a Fishman Sonicore pickup, and an inlay Tim created dubbed "Tree of Death." It's anticipated that the TOD10N will be sold sometime in the first quarter of 2023.
Tim was inspired to create this guitar after seeing the SC500N, an older Ibanez guitar model. This previous model stood out because it had nylon strings and a piezo pickup system instead of steel ones and was an electric guitar with a solid body. Although it is obvious that the TOD10N was created with that model in mind, it has different specifications and may be viewed as a unique piece of work.
The body's structure is comparable to that of the FR series, with the exception that it is hollow rather than solid. The design also features a subdued sound hole that faces the player and is located on the instrument's upper body. This not only offers a distinctive and genuine acoustic tone but also preserves the guitar's sleek and modern appearance. Fan bracing is another crucial element found in the TOD10N.
Features:
FRH body with 22 frets, solid Sitka Spruce top Sapele sides, and back
Body depth: 50/50mm at the neck joint and the body's terminus Neck nyatoh
Wooden fretboard and bridge
the breadth of the 46 mm nut
The Death Tree Pearlescent inlay
NUT & SADDLE IN BONE
Classical tuners in gold
Sonicore by Fishman pickup
Daddario EXP45 strings with an onboard tuner on the Ibanez AEQ210TF preamp
15.7″ fretboard radius Fan Bracing Side Sound Port
Transparent Black Flat as a Finish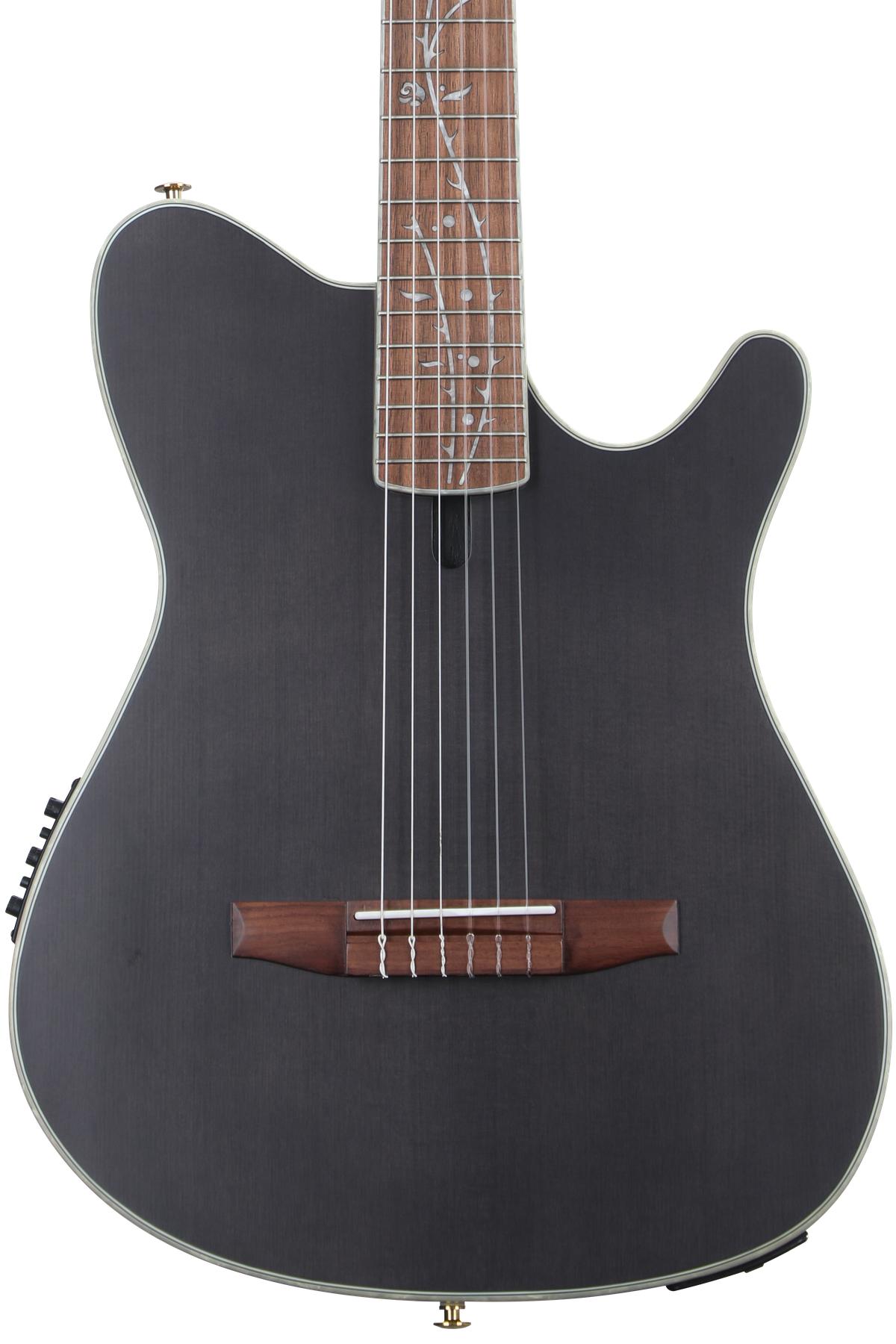 Tim Henson signature guitar price?
Strings used in Tim Henson signature Acoustic guitar Nylon or Steel?
New Tim Henson signature Acoustic guitar comes with nylon string.