Learn to play Bekhayali Chords by Sachet Tandon from Kabir Singh. Easy Guitar Chords with Strumming Patterns.
Bekhayali Chords Info
Tunning: ( EADGBE )
Scale: Am
Chords: Am, G, Em, F, Dm
Suggested Strumming: D DU DU
D= Down Stroke, U = Up Stroke, N.C= No Chords

BEKHAYALI Track Info
The song is sung by Sachet Tandon for Shahid Kapoor and Kiara Advani starrer upcoming Bollywood film Kabir Singh. The song is composed by Sachet- Parampara and its lyrics are written by Irshad Kamil. .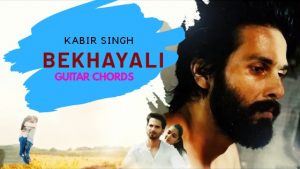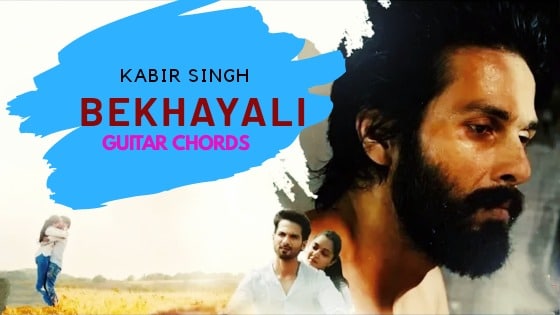 Song: Bekhayali
Artist: Sachet Tandon
Music: Sachet- Parampara
Lyrics: Irshad Kamil
Cast: Shahid Kapoor, Kiara Advani
Acoustic Guitar: Rythm Shaw
Electric Guitar: Kalyan Baruah
Music Label: T- Series
Learn to play
Bekhayali Intro Tabs ( Distortion & Arpeggio )
[Verse 1]
Am                      F          G




Bekhayali mein bhi tera hi khayaal aaye




Am                         F         G




Kyun bichhadna hai zaroori ye sawaal aaye




    Dm          F          Am     G Em




Teri nazdeekiyon ki khushi behisaab thi




         Dm      F         Am


Hisse mein faasle bhi tere bemisaal aaye

[Chorus]
Am




Main jo tumse door hoon




Am             F




Kyun door main rahoon




         G




Tera guroor hoon


 


Am




Aa tu faasla mita




Am        F




Tu khwaab sa mila




               G




Kyun khwaab tod doon


 
 


Am  G   F   Am




ooo ooo ooo ooo




Am  G   F   Em




ooo ooo ooo ooo


 
[Verse 2]
Am                      F          G     




Bekhayali mein bhi tera hi khayaal aaye




Am                         F         G




Kyun bichhadna hai zaroori ye sawaal aaye




         Dm         F




Thoda sa main khafa ho gaya




Am   G  Em




apne aap se




         Dm         F




Thoda sa tujhpe bhi bewajah hi




Am




malaal aaye
[Interlude]
 Am   F




 Am   F
[Verse 3]
Am




Hai ye tadpan




G




Hai ye uljhan




F     G




Kaise jee loon bina tere




Am           G




Meri ab sab se hai annban




F     G




Bante kyun ye Khuda mere
[Interlude]
Am G




Ho




F  Dm




Ho
[Chorus]
Am




Ye jo log-baag hain




Am           F




Jungle ki aag hain




             G




Kyun aag mein jalun...


 
 


Am




Ye nakaam pyaar mein




Am             F




Khush hain haar mein




              G




Inn jaisa kyun banun oo...


 
 


Am  G   F   Am




ooo ooo ooo ooo




Am  G   F   Em




ooo ooo ooo ooo
[Verse 4]
Am     C




Raatein dengi bata




G                   D




Neendon mein teri hi baat hai




Am




Bhoolun kaise tujhe




G                   D




Tu toh khayalon mein saath hai


 


Am




Bekhayali mein bhi tera




F         G




hi khayaal aaye




Am




Kyun bichhadna hai zaroori




F        G




ye sawaal aaye
[Bridge]
Am              G




Nazaron ke aage har ik manzar




F            G




Ret ki tarah bikhar raha hai




Am            G




Dard tumhaara badan mein mere




F              G




Zeher ki tarah utar raha hai


 
 


Am              G




Nazaron ke aage har ik manzar




F            G




Ret ki tarah bikhar raha hai




Am            G




Dard tumhaara badan mein mere




F              G




Zeher ki tarah utar raha hai
[Outro]
Am               F         G




Aa zamaane aazma le roothta nahin




Am                  F       G




Faaslon se hausla ye toot'ta nahin


 


           Dm




Naa hai woh bewafa aur na




D    Am   Am




main hoon bewafa




        Dm         F




Woh meri aadaton ki tarah


 


Am       G     Am




chhoot'ta nahin