Do Lafzon ki Hai Guitar chords
Do you like a Bollywood classic romantic song? so let's start to play this beautiful evergreen song. Presenting Do Lafzon Ki Hai Guitar Chords. There is a nice chords combination in this song, so you must like to play this song with a guitar.

Do Lafzon ki Hai Song Credit
Do Lafzon Ki Hai Dil Ki Kahani is a beautiful evergreen song from the Bollywood film The Great Gambler. The Song features superstar Amitabh Bachan and Zeenat Aman. This beautiful composition is composed by nonother than R D Burman. The song is sung by Asha Bhosle, Sharad Kumar.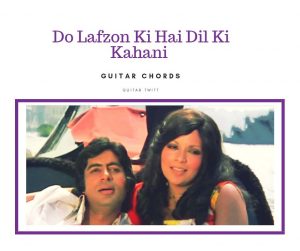 Song: Do Lafzon Ki Hai
Film: The Great Gambler
Singer: Asha Bhosle Sharad Kumar
Music: R D Burman
Language: Hindi
Year: 1979
Do Lafzon ki Hai Chords Info
The song is in D minor scale. So all the D minor Scale relative chords are used in this song are D minor, C major, F major, Bb major, and A major.
Scale: Dm
Chords: Dm, Bb, C, F, A, G,
Suggested Strumming: D DUD D
[Dm]Lala la la la lala [C]la la la
la la la [Bb]la
lala la la [Dm]lala la
Lala la [C]la la la la la la [D]la

Aa more mio dove [C]stai Tu
Te sere [Bb]kando me soro [Dm]mio
[Dm]Hmm hu hu [G]hu  hmm hu [D]hu hu
[Dm]Do lafzon ki hai dil ki [C]Kahani
Ya hai [Bb]mohabbat ya hai [Dm]jawani
[Dm]Do lafzon ki hai dil ki [C]Kahani
Ya hai [Bb]mohabbat ya hai [Dm]jawani
[Dm]La la la [C]la La la la [Dm]la
Stanza
[F]Ye kasti wala kya gaa raha tha
Koi  [A]isse bhi yaad aa [Dm]raha tha

[F]Ye kasti wala kya gaa raha tha
Koi  [A]isse bhi yaad aa [Dm]raha tha

[Dm]La la la la la [Bb]la La la la [Dm]la
[Dm]Kisse purane yadein [C]purani
Yaa hai [Bb]mohabbat ya hai [Dm]jawani
Stanza
[F]Ish Zindagi ke din kitne kam hai
Kitni hai [A]khusiyan aur kitne [Dm]gham hai

[F]Ish zindagi ke din kitne Kam hai
Kitni hai [A]khusiyan aur kitne [Dm]gham hai
[Dm]La la la la la [Bb]la La la la [Dm]la

[Dm]Lagja gale se rut hai [C]suhani
Ya hai [Bb]mohabbat ya hai [Dm]jawani

[Dm]Do lafzon ki hai dil ki [C]Kahani
Ya hai [Bb]mohabbat ya hai [Dm]jawani
Stanza
[F]Dil ki baaton Ka matlab naa Pucho
kuch aur [A]hamse bas ab na [Dm]Pucho

[F]Dil ki baaton Ka Matlab naa Pucho
kuch aur [A]hamse bas ab na [Dm]Pucho
[Dm]La la la la la [Bb]la La la la [Dm]la

[Dm]Jiske liye hai duniya [C]diwanee
Ya hai [Bb]mohabbat Ya hai [Dm]jawani