Jibon Re Guitar Chords
Presenting Jibon Re Guitar Chords
Jibon Re is a new folk-based soundtrack from the film Prem Amar 2.
This beautiful song is sung by Arindom. The composition of the song is given by Savvy and Lyrics are penned by Ritam Sen.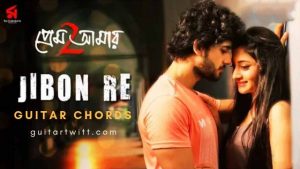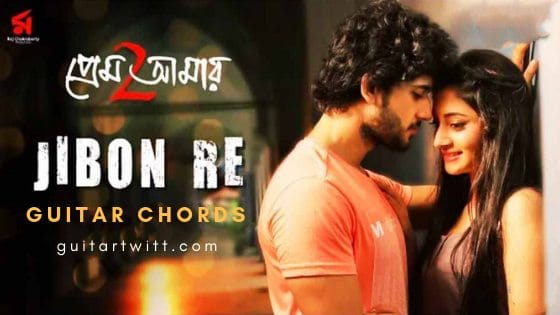 Song: Jibon Re
Singer: Arindom
Music: Savvy
Lyrics: Ritam Sen
Language: Bengali
Music Label: Svf Music
Year: 2019
Chords Details
This beautiful song is in A major scale. So the chords we need are A major, B minor, D major, E major, and C# minor.

Scale: A
Chords: A, Bm, C#m, E, D
Suggested Strumming: D D DUD
O jibon [A]re tui chariya jasne [E]morey
[Bm]Tui jibon [C#m]chariya gele
[E]Ador korbe ke jibon [A]re

[A]Bhabte parchina tui [D]chara
[A]Kujchi toke sab chin[D]tara
[A]Bhabte parchina tui [D]chara
[A]Kujchi toke sab chin[D]tara

[A]Sab khali [D]khali lage sab [A]somay
[A]Keno sudhu [D]sudhu bol [A]koshto hoy
[A]Toke pabo [D]na bhebe
[C#m]korche bhoy [A]amar


[A]Sab khali [D]khali lage sab [A]somay
[A]Keno sudhu [D]sudhu bol [A]koshto hoy
[A]Toke pabo [D]na bhebe
[C#m]korche bhoy [A]amar

[Bol na[E] ki dosh kore[A]chi ei ne [E]du kaan dore[A]chi
Aaj [E]khoma kore de amai

O jibon [A]re tui chariya jasne [E]morey
[Bm]Tui jibon [C#m]chariya gele
[E]Ador korbe ke jibon [A]re
[A]Kanna pachche khub son na na [D]tui
[A]Sapne Dile dub toke [D]chui
[A]Keno chole [D]geli dure [A]janina
[A]Mon khuje [D]khuje phere [A]thikana
Toke [A]chara [D]keno pran [C#m]bachena [A]amar


[A]Sab khali [D]khali lage sab [A]somay
[A]Keno sudhu [D]sudhu bol [A]koshto hoy
[A]Toke pabo [D]na bhebe
[C#m]korche bhoy [A]amar

Bol na[E] ki dosh kore[A]chi ei ne [E]du kaan dore[A]chi
Aaj [Bm]khoma kore de amai
O jibon [A]re tui chariya jasne [E]morey
[Bm]Tui jibon [C#m]chariya gele
[E]Ador korbe ke jibon [A]re